WXWarn Weather Software!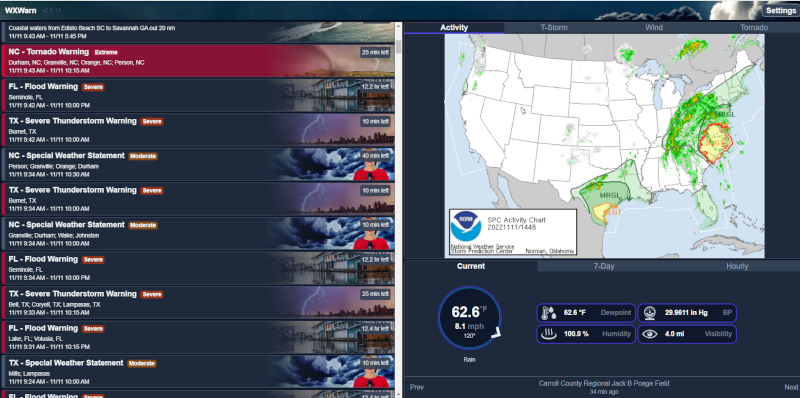 Summary:
The extremely old, legacy version of WXWarn is below. For more details on the current version of WXWarn, please visit here!
Old Version Legacy Text Follows:
WXWarn is easy to use free weather software that will monitor National Weather Service warnings, watches, forecasts, etc., and alert you (audio and visually) as new ones are issued. Monitor the whole US, just your state, county or county list. You can also monitor and screen for specific alerts.
WXWarn will also display up to 12, real time weather graphics that you can configure for content and size! This software is designed to download and parse weather data published by the NWS.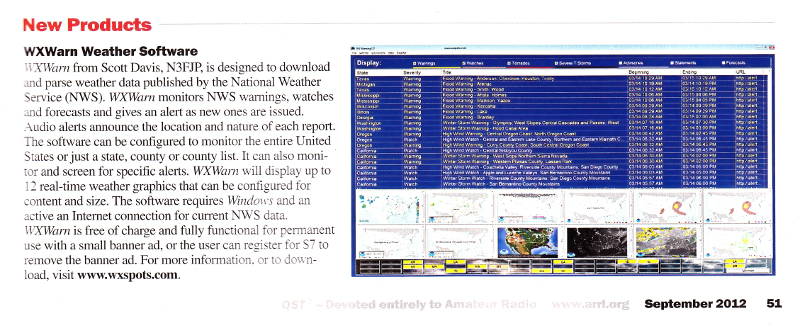 What a thrill to see WXWarn listed in the new products section of QST!
Put WXWarn in your Windows Startup folder. As long as you have an Internet connection you will always be monitoring for weather events whenever they unfold.
The weather data that WXWarn displays is based on criteria that you can select. Pleasant audio alerts are provided that will tell you the location and nature of each report.
To download the full installation package:
If you are new to WXWarn (or if you had a version prior to 1.2 installed), you'll need to do a full installation. Make sure you uninstall the old version first. To download the full installation package, please click this link:
Download N3FJP's WX Warning Program 1.8 Now (OLD Legacy Version)
Registration Options:
This software is either entirely free, with a small advertising window on the main display, or, if you would like to eliminate the ads, free up screen space for weather images and encourage me to continue to develop this program, you can register the program for $7.00. I would really appreciate it!
To register by credit card via PayPal, please click the Buy Now button below. When we receive Notification of Payment from PayPal, we will promptly send your password via e-mail. If you have not received a confirmation within 24 hours, please send us an e-mail.
Please Register WXWarn Software Now! Only $7.00!


Or, you can send Cash, Check or Money Order payable to Affirmatech Inc. for registration of this program. Please be sure to include your e-mail address with your request so we can process your registration promptly! Send to the address below:
Affirmatech Inc.
G. Scott Davis, N3FJP
118 Glenwood Road
Bel Air, MD 21014-5533
Thanks again for your support. I really appreciate it!
Wx Warning Revision History:
April 11, 2012: (Version 1.8)
- Added displays for 12 and 10 medium sized graphic options.
March 14, 2012: (Version 1.7)
- Displays up to 12 weather images on the main form in various sizes. Click Settings > Image to configure
- Font Size is user customizable
- NOAA discussions form can remain on top and placed wherever the user likes
- Discussions form can be accessed directly from the main form
February 21, 2012: (Version 1.6)
- Can be set to maximize if minimized and move to front based on user defined criteria.
January 23, 2012: (Version 1.5)
- Optional registration or free with advertising
August 8, 2009: (Version 1.4)
- NWS changed the national data feed and they are no longer including the state identification. I'm now parsing the state from the URL and keeping my fingers crossed they don't change their URL naming convention.
July 6, 2009: (Version 1.3)
- Parse code rewritten to access the new NWS data feed (existing feed being phased out in 2009)
- Integration of WXSpots and Waxwing! They each work independently as always, but Waxwing will feed WXSpots data so all the information is easily viewed on one form!
- Tropical weather outlook, tropical discussion and Msesoscale Discussions are checked every 5 minutes for the latest updates!
- Click the list item to go directly to the website forecast!


Copyright 2007-2022, Affirmatech, Inc.